When we talk about organizing for sports, most moms will roll their eyes. If you've ever been the mom of a sport's participant, then you know just how many pieces of equipment even one sport can call for. But if you have multiple kids or even one kid in multiple sports, then the barrage of balls, bats and bags can . . . shall we say, make a mom shout, "Time out!"
I had three boys and a coaching husband ~ enough said!
Rule #1 – Organizing sports equipment is not a team effort.
Why? Two reason:
Each person organizes his own equipment and apparel because he is the one using it, and he understands how he needs his paraphernalia to function for his best effort on a team.
Moms, as much as our family needs us, our kid really does have a brain that functions in its own unique way. What works for us may not work for him.
It's his responsibility. We want our kid to develop organizational skills; here's a great place to start and/or refine those skills.
Rule #2 – The best games are built on the basics.
The crates were hung on nails in our garage wall, making it easy to grab a ball or store a ball on the way in and out of the house. The fiberboard barrel held bats and hockey sticks.
The net bag was kept in the trunk of our car. If you have boys, you know that no matter where you go or for whatever reason (read: it may even be a formal occasion), once you arrive, the first boy out of the car starts running out into an open field or parking lot, and the second boy out of the car emerges, ball in hand, yelling, "Go deep!"
Keeping the organizing basic means everyone is more likely to do his part.
For traveling, he used the bag of his choice. Remember we don't think the way our athlete does, nor do we understand all of what is required. A bag with a plastic pocket inside does allow for sweaty uniforms to be separated from otherwise dry clothing.
Which brings us to Rule #3 – If you play sports, the sports bag should always be packed and ready to go.
Have your player repack his "go-bag" as soon as he gets home, rather than right before he needs to leave for his next game or practice, minus, perhaps, the sweaty, smelly uniform that will need to be washed. Game equipment is really more protected in the sports bag than stored somewhere in the house.
Our society is so mobile and busy, keeping with basic equipment storage makes packing up and heading out the door easy. Why put sports equipment in some storage bin only to have to retrieve it and pack it in a travel bag of some kind? Equipment and apparel for games can be kept and stored in their sports bags ready to go.
Basic storage for home and sports bags for the athlete on the go – sounds like a win-win.
Have you ever found yourself in "information overload?" We get that by spending too much time on the internet.
Have you ever felt like you had "too many things to keep track of them all?" We get that by putting too much on our plate.
There is a great deal of information out there on how to prioritize, plan, set goals, declutter, let-go, say no, etc. There is plenty of information about how to find peace and calm in the midst of chaos. Sometimes all that information can actually contribute to the clutter in our brains.
When we find ourselves in the throes of mental overload, please, please find a system to meet your needs.
Maybe you need to make lists in order to get everything done. And just maybe you think it would be better if someone else made out that list. Check out ListPlanIt.com and take a look at the household binders. (Affiliate.)
Maybe you need a calendar to track your events and to-do lists.
Maybe you need a timer to keep you focused.
Maybe you need an accountability partner to check on you periodically to make sure you are staying with your goals.
Maybe you need adjust the number of commitments that you have and say, "No" to more things.
But for sure you need to notice that the key word in both of the scenarios above is the word "we."
You and I are the source of our own mental overload. Here are a few suggestions for decluttering your mental state:
Decide to live your life according to the things that you value. If you value time with your family and that time comes in the evening, then you shouldn't try to fill that time with hobbies, blogging, Pinterest, etc.
Know that you will be saying "No" to some activities and to some people. No need to feel guilty.
Learn to let go. Have you ever struggled to make a decision? But as soon as the decision is made, you feel such relief. The same thing is going on in your brain over:

projects you have unfinished
clothes in your closet
books you haven't read
gifts you need to buy
letters you need to write
long lost friends you need to contact
You get the idea. Things that need to get done, but linger in the recesses of our minds create mental clutter. But we are the ones to relieve ourselves of the burden they create.
Set aside some time to address the issue. Most of the issues will take less time than you think. they just need you to address them.
Make the decision of what to do about the problem and follow through with the decision.
Let it go. I assure you; you are the only one that is struggling over it.
Have ever started the day with not just one To-Do List, but a whole stack of them? 'Cause each event on your . . . huh . . . To-Do- List warrants it own To-Do List. What?!
I feel your pain.
But you know in your heart of hearts that without those lists, something or someone is going to be forgotten.
Or for most days, you just know that having a list makes you more focused.
Or there are a couple of little distractions running around and its nice to just check your list instead of scratching you head to remember what else needed to be done.
Or perhaps, you  just like the feeling that check marks  √ give you.
Either way on any day, lists can be your life saver:
1) The list remembers so you don't have to.  Let's face it, young or old, male or  female, busy or not-so-busy, we all forget things: birthdays, lunch money, donations to drop off, socks for  the tennis match, signed permission slips, appointments, etc. Why do we keep trying? Write it down on your planner or a to-do list.
2) Tasks can be prioritized on the list. The importance of prioritizing cannot be underestimated. If you are out running errands, you don't want to have to back track through traffic because you – forgot – to do the task while you were "in the area." Even at home, prioritizing can keep you from running yourself ragged.
3) You can see what has been accomplished. And you can see what still needs to get done. I'm notorious for saying I didn't really get anything done on a particular day, only to realize later that 3 loads of laundry washed, dried, folded and put away, bathrooms cleaned, kitchen floor mopped, appointments made and calendar filled with school events is a good day's worth of accomplishments. But, you see, those things weren't on a list, because, well, because they aren't earth-moving tasks. Just ordinary, every day kinds of things.
But tasks don't need to be earth-moving to warrant a place on your daily to-do list.
What goes on a list? Anything that needs to be remembered or done.
If you love lists, I'd like you to meet my new affiliate~

ListPlanIt has all the bases covered with 700+ lists for every area of a woman's life.
They have forms to fill in and print out; they have pre-populated forms to print out; they have forms to fill out, store in the cloud and access for any device; they have forms to fill out, save in the cloud and print out.
You can just about have it your way.
Click over and check out ListPlanIt, you can try it free for 30 days.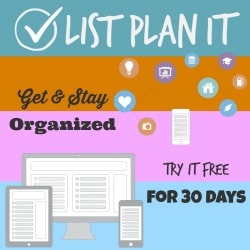 The holidays around the corner. I know; I know. Can you believe it? You might want to get an ebook for getting organized for Christmas ~ starting now, outlining tasks to do for the 100 days before Christmas to get it done in time and NOT stressed. That's right, 100 days before Christmas is September 16.
Do pop over and take advantage of the 30 day free trial. Then you can dispose of the T0-Do List of the lists that you need to make.